Flat stomach: 9 tips to combat bloating without dieting
To avoid "bloating," dietician Elisa Kloteau advises you to pamper your gut. Nothing could be easier by adopting small daily reflexes.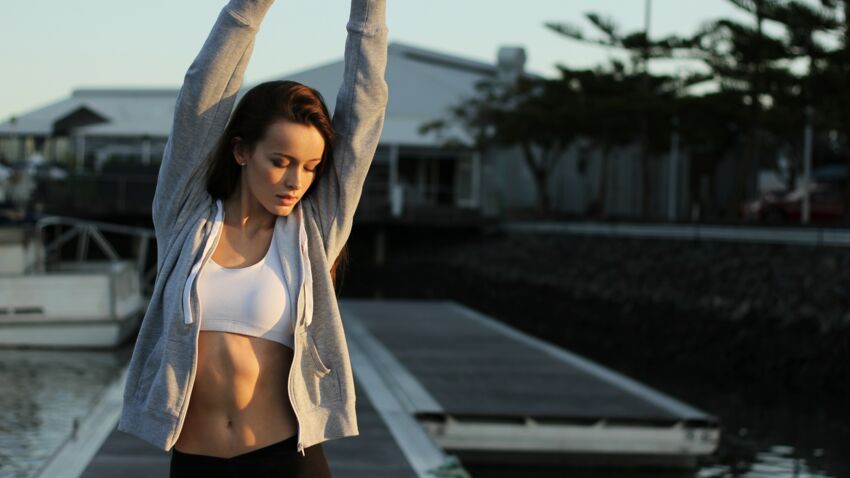 If you're in the habit of unbuttoning your pants after lunch because you feel bloated, think again about what you just ate. Too many raw vegetables? Too many legumes? Or you may have swallowed your meal in three forks... To prevent post-meal inconvenience, it's often enough to correct a few small mistakes. Follow the advice of Elisa Cloteau, a registered dietitian at Pornichet and Nantes.
Reduce the consumption of raw vegetables
Limit yourself to one raw green vegetable per serving, as your gut may not have the capacity to support very solid fibres. If necessary, fry it quickly. Do not forget to peel vegetables and fruits. Same for young potatoes, even organic!
Digestive aid
Elisa Cloteau recommends seasoning your recipes with ingredients like fennel seeds in fish flakes, rosemary on meats, star anise in stewed pears...and drinking a thyme or lemon balm infusion. Lots of little extras with digestive virtues.
Choose good oils
For a cold seasoning, use rapeseed, walnut, or camelina oils to preserve omega-3s (essential fatty acids). Or sprinkle it over cooked vegetables or starches at the end of cooking. For cooking, olive, sesame or coconut oil is preferred because they are more heat-resistant while avoiding high temperatures.
Try blond psyllium
This is a trick to relieve Irritable Bowel Syndrome. This plant encourages the development of good bacteria, which are necessary for the balance of the intestinal flora. You can take its seeds naturally or in the form of powder or granules (in pharmacies). For long-term use, seek doctor's advice
omega 3 booster
Some oils (rapeseed, walnut, camelina), herring, lettuce, eggs or "Bleu Blanc Cœur" meat ... are rich in omega-3 and help reduce inflammation and intestinal permeability. Also workable: Linate, finely ground flaxseed. 10 grams covers more than half of the daily requirement. To be incorporated into recipes to replace 10% by weight of flour, or sprinkled in salads, desserts, yogurt, compotes ...
Discover rice flakes
This limits the digestion of heavy flours. For use in savory or sweet dishes (vegetable terrines and pies, bread, soups, purees, cakes, etc.). Also tested: Legume flakes (peas, chickpeas, etc.) in pre-cooked form. "It is a way to consume legumes without their drawbacks (bloating, gas, etc.)," says Elisa Kloto. It is on sale in organic stores (brands Celnat, Markal, etc.).
Keep germs
Pulses are preferred in soups (red lentil cream with cumin, for example). And also he prefers vegetable juices (porridge with hazelnut milk, coconut milk dessert ...), sheep's cheese, and foods rich in fermentable ferments useful for the intestinal flora (vegetables fermented with milk, pollen ...).
Avoid soft drinks
Sugars and sweeteners promote intestinal fermentation. On the other hand, our expert warns, "Sparkling water rich in bicarbonate improves digestive comfort but it may be a good idea to throw it away." Otherwise, drink 1.5 liters of water or a hot drink (herbal tea, broth, etc.) per day. 1 to 2 cups max per serving because if it's high in fibre, your stomach may expand, boosting your food intake. Also divide the volumes and drink from the mug rather than the mug.
eat slowly
not easy ! A trick suggested by Elisa Kloto: Place an object (a small zen figurine, a pine cone, etc.) near your plate, or wrap a bracelet around your glass, to focus your attention. Visible every time you poke a fork on your plate, this transitional object will make you think about chewing!