Chia seeds: one of the advantages of these appetite-killing seeds
Its crystallizing power makes chia a powerful ally for creating light, healthy and satisfying recipes.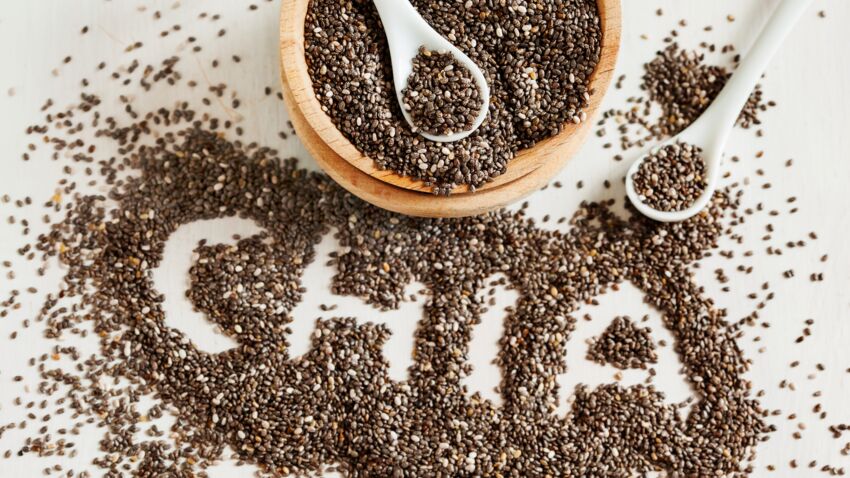 magic! After 30 minutes in any liquid (water, juice, tea ...), chia seeds form an appetite suppressant gum, a gel that has the same binding effect as eggs and can replace it in muffins, at the rate of one to three tablespoons of water. This gel can also replace part of the fat, for example half of the butter in a cake. The gelling power is also effective for thickening sauce, soup, cream, etc.
Chia, an omega-3 mine
Chia seeds can also be used as is: 1 tablespoon in yogurt, smoothie, muesli, in bread or muffin batter, or on raw vegetables, allows you to be full for longer. Rich in protein, it is also an omega-3 mine that is essential for the prevention of cardiovascular diseases: two tablespoons cover 100% of our daily needs! Its fibers help in transit, lowering bad cholesterol and regulating blood sugar (blood sugar level). The assets that make chia the star seed of vegetarian dishes, not to mention that it's gluten-free.
Chia seeds: instructions for use
To get you started, here are three quick recipes:
Pudding: Prepare the day before to give the seeds time to swell. In a blender, pour 250 ml of almond milk + 2 tbsp. in s. of agave syrup. Add 2 bananas, 3 tbsp. in s. of chia seeds. mix up. Pour into bowls and refrigerate for at least two hours. Before serving, garnish with fresh fruits.
Energy drink: Squeeze half a lemon into a glass. Filled with sparkling water add 1 tbsp. in s. of chia seeds. Mix and then leave to swell in the refrigerator. You can also add mint leaves, fresh ginger, turmeric, fresh fruit or agave syrup.
Mango/Chia Ferrine: In a bowl, mix 50gm of chia seeds and 250ml of coconut milk. Leave it to rest for 30 minutes. Peel a mango and cut it into large cubes. Mix with 2 tbsp. in s. of agave syrup and 1 tbsp. c. of blond psyllium. Cover and let it thicken for 30 minutes in the refrigerator. In verrines, put a layer of mango, another layer of thicker chia, then a second layer of mango. Garnish with some blackberries and coconut shavings. Recipe taken from I Fall Raw, Sarah Bienaimé ed. living earth.