Almond milk: is it compatible with a slimming diet?
Almond milk contains fewer calories than cow's milk and is rich in vitamins and minerals, and can be useful as part of nutritional rebalancing or as part of a diet for people with lactose intolerance. An overview of this vegetable drink.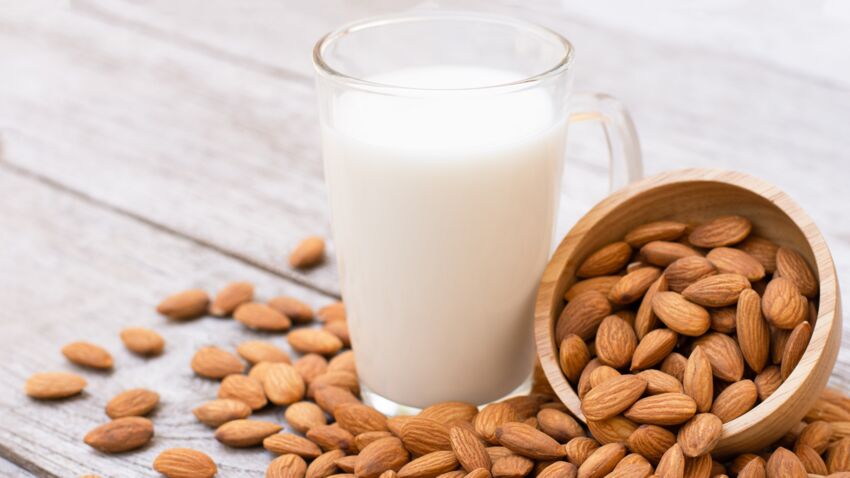 In recent years, almond milk has become popular. It is especially appreciated by vegetarians with lactose intolerance, and is a potential alternative to cow's milk. Focus on Almond Milk with Nutritionists Alexia Moyal and Carla Abbou.
Almond Milk: Nutritional Values
In addition to the fact that this vegetable milk drink contains neither gluten nor cholesterol in its composition, it has the advantage of being very rich in vitamins and minerals necessary for the proper functioning of the body: vitamins A, D, E, iron, calcium ...
At the intestinal level, this vegetable milk also has interesting properties. On the one hand, it enhances digestion, and on the other hand, it improves intestinal absorption of fats and sugars.
Almond milk has a completely different nutritional composition than cow's milk. In fact, this plant-based milk has fewer calories than cow's milk and is lactose-free, and appears to be an easier-to-digest and lighter solution.
"Another advantage of almond milk: Its fat profile is better, with the majority of unsaturated fats - which is better on a cardiovascular level." Alexia Moyal explains.
How many calories are in almond milk?
Although it is rich in vitamins and minerals, almond milk has the advantage of being lower in calories than cow's milk.
A cup of almond milk is only about thirty calories, versus a good hundred for semi-skimmed cow's milk!
Almond milk: side effects
The main disadvantage of artificial almond milk is that it costs much more than cow's milk.
"In addition, even if it contains very few almonds, from 3 to 6%, it can pose an environmental problem: almond trees in particular are water-intensive trees..." explains Carla Abbou.
Finally, regarding the calcium content, of course, almond milk does not contain anything, but many manufacturers add it. If you care about your calcium intake, choose calcium-rich almond milk.
"All of these drinks have their pros and cons, so it's important to diversify them to provide many benefits to our bodies." , she adds.
Almond milk and weight loss: is it compatible?
Almond milk is a plant-based drink that can be recommended for adults, vegans or not, as either an alternative to cow's milk or soy milk.
"This plant-based milk is compatible with the quest for weight loss, provided that you choose it plain, without added sugar, to take full advantage of the benefits of almond milk, because the addition of sugars significantly modifies the ingredients of its drinks." Carla Abbou says.
To take advantage of its benefits, without increasing the number of calories consumed, be sure to choose almond milk:
Like soy milk, almond milk is naturally low in calcium, so choose calcium-rich almond milk.
It's hard to find artificial almond milk with just water and almond paste/mashed. It is better to do it yourself. For those who don't have the time: Choose milk that contains as few ingredients as possible and is as natural as possible.
Before reading the label, keep in mind that the ingredients are listed in order of proportion to their quantity: from the ingredient with the largest quantity to the least present. The fewer ingredients, the better! The drink should look as close as possible to the one we make at home...
Homemade almond milk: how to make it yourself?
Almond milk with almond powder recipe
Mix 100 grams of ground almonds and 500 ml of water in a saucepan.
Bring the mixture to a boil and leave gently for ten minutes.
Then drain the milk, and save the leftovers for another recipe.
Almond milk with almond puree recipe
Heat 500 ml of water.
Then dissolve 50g of almond puree little by little in hot water. And it's ready!
"This fairly quick technique gives just right milk. Be careful to choose a type of almond puree that has a very good puree without lumps," advises Alexia Mouyal.
Good tip: You can add honey, vanilla, allspice or maple syrup to your preparation, for example.
Good to know: Be careful, homemade almond milk can only be kept for a few days.
Almond milk: a complete weight loss breakfast
Here is a quick porridge recipe for a complete slimming breakfast.
Ingredients (for one person):
250 ml of almond milk
50 grams of oats
1 tablespoon honey
Half a banana, cut into slices
A few sesame seeds and/or almonds, hazelnuts...
Simmer milk and oatmeal in a saucepan over low heat for 5 minutes. Mix regularly. When the porridge is ready, remove it from the heat and add honey, mixing well. Serve this mixture with pieces of banana and sesame seeds...
Almond milk: a snack for afternoon tea
This recipe for an indulgent chocolate fudge cream is as indulgent as a healthy teatime snack.
Ingredients (for one person):
125 ml of almond milk
100 gm strawberry
10 gm chia seeds
1 teaspoon cocoa powder
1 teaspoon of agave syrup
The night before: Put the almond milk, chia seeds, cocoa powder and agave syrup in a bowl, mix well and put the container in the fridge overnight.
The next day, snack time: Cut the strawberries into slices. Put the preparation in a vine and add strawberries on top. It's ready to taste!
What is the preferred milk for weight loss?
There are many vegan alternatives to cow's milk today: soy milk, almond milk, oat milk, wheat milk, hazelnut milk, cashew nut milk, coconut milk, rice milk.. ..
In the context of weight loss research, it is recommended to limit plant-based drinks rich in carbohydrates. To do this, check the nutritional table that the drink contains no more than 7 or 8 g of carbohydrates per 100 ml.
Make sure to choose milk without added sugar by looking carefully at the ingredients list because a lot of them contain it!
Finally, to stay healthy, avoid drinks with controversial additives: some contain flavorings, phosphates, or even carrageenan.