60-year-old training program: 4 exercises to keep in shape




Staying in shape after 60 and maintaining regular physical activity is very important for the health of the body and the organism. However, you have to know how to adapt your exercise routine from the age of 60 in order to take advantage of all the benefits that sport can bring you without suffering injuries. Here are some ideas for exercises and activities to do to keep in shape!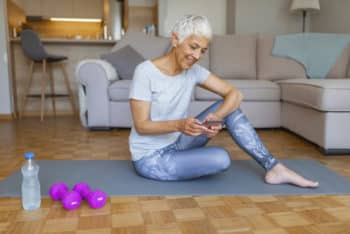 The importance of physical activity for older people
After 60 years, regularity is essential! In fact, it is no longer the intensity that counts but the regular practice of physical activity. When you're old, having an active life helps you stay in shape. We must continue, go as far as possible (to buy bread for example) because all the efforts that are made on a daily basis can only be useful. In the morning, it may be a good idea to do some stretching, when you wake up, to start the day off on the right foot.


Of course, after 60, you have to know how to adapt the chosen sports practice to your abilities and not force yourself too much. Indeed, the heart and the vascular system are no longer what they used to be and the joints can become painful. However, it is never too late to make a personalized training program.


Many activities suitable for seniors
There are many physical activities that can be practiced after 60, even if the body is weak and the muscle movements difficult. Whether you're a seasoned athlete or a sports enthusiast, you're sure to find an activity that's right for you and helps you stay in shape.


Gentle gymnastic exercises
It is advisable, after 60 years, to do gentle gymnastics. You can choose in-house group lessons or contact a sports trainer for private lessons. Gymnastics offers a variety of exercises that strengthen the whole body but also work on its flexibility and


coordination, essential at a certain age. Contacting a coach above all allows you to follow a personalized program, adapted to your abilities and to the little sores that can slow you down. The trainer can also help you make the right movements and correct your posture to perform all the exercises well and avoid injury.


For the perfect workout, you can start with a brisk 15-minute walk or bike ride, then follow up with a few full-body exercises:


squat

Push-up (on the knees)

Printed with elastic bands

or crackles.
For optimal efficiency, you can perform 10 to 15 repetitions of each movement and two sets of each exercise.


Being a professional coach allows you to avoid injuries but also to not lose your motivation.


swimming _
Swimming, and all nautical activities in general, is a sport that can perfectly complement the various stretching exercises practiced daily. It is a sport with well-established benefits. It is quite simply appropriate, when one is old, to keep a good rhythm and to adapt to one's abilities. It's a good way to work on your endurance without difficulty. No need to make great efforts. The


swimming is good for the heart and joints as well as for morale. Swimming works all the muscles and can help someone with osteoporosis or severe back pain. In two or three sessions per week, it increases respiratory capacity by about 20% and improves the distribution of abdominal fat.


Water aerobics is one of the most recommended water activities for seniors. This consists of a series of exercises in the water, very gently, to strengthen the work of the muscles and the heart and blood vessels. Aquagym has many advantages and is accessible to everyone.


It is also possible to learn to swim after 60 if you did not know this before.


While walking _
The benefits of walking are numerous and if you walk regularly, it allows you to maintain your body in a healthy way while maintaining your physical shape. Yes, walking is also a sport! Among the activities that have been on the rise in recent years, especially among the elderly, is Nordic walking. It seems thanks to cross-country skiers at the base. walking


Nordic uses poles, which increase the length of the stride, accentuate the swing of the arms and lighten the entire upper body thanks to the upper muscles that are more stressed (arms, shoulders, pectorals, among others). Thanks to Nordic walking, you can forget about jogging, which is very taxing on the joints. A good way to build your whole body while staying in shape. it's necessary


une spécialité qui peut être pratiquée par les personnes âgées et certains cours peuvent se dérouler sur des chaises pour s'adapter à l'âge des participants. Les personnes âgées peuvent faire les mêmes postures et mouvements sur le tapis, c'est-à-dire des postures, du mouvement, du renforcement musculaire, de la relaxation, de la méditation, et aussi du travail respiratoire.
yoga_
Yoga is an activity that can be started even after the age of 60, provided you follow certain recommendations. If some situations pose more problems, others, on the contrary, will solicit the whole body and allow you to get back in shape. The goal of yoga is to unite body and mind through mental and muscular relaxation. There are many forms of yoga. This is
Le yoga permet de lutter contre les douleurs articulaires ou dorsales (bas du dos, sciatique, etc.) grâce à certaines poses spécialement modifiées. On estime que plus d'un million de personnes pratiquent le yoga en France, toutes générations confondues.